"Ignite Your Inner Sparkle" Program
"Ignite Your Inner Sparkle" Program
Mindfulness-based life coaching is an ideal approach for women who need some tools and support to connect with themselves, find their voice, feel more peaceful and harness their personal power.
The "Ignite Your Inner Sparkle" program was created for women who feel their inner sparkle is a little dull and are seeking vibrant health, connected relationships and a sense of purpose.
Here's a personal message about the program:
Bev gave me the tools that I needed to make the changes in my life in order to uncover so many things about who I am, why I do what I do, and how to create the life that I want for myself.
I came to Bev to find myself, to find my purpose, to find the meaning of life, and most of all to learn how to love myself again. I was given some of the most influential tools that I could ever carry in my life, but they didn't come easily or without a hell of a lot of work.
When I tell my friends and family about our work together and how much it has changed how I feel about myself and respond to others around me, I get emotional. I feel like I am the person I was always meant to be. I just never had the tools to stay calm and collected through stressful and hard times in order to actually be that person.
Bev is kind, loving and compassionate and is committed to helping women find themselves again and live their fullest life; however, she does not do the work for you. She provides the resources and tools to help you become who you are meant to be and who you have always been. I would absolutely recommend Bev to my family and friends.
When I began working with Bev in her 3-month 

Ignite Your Inner Sparkle

program, I was feeling very sad and tired. I was experiencing low confidence, total exhaustion, poor health, headaches and lack of energy. I had no idea why this was happening to me! As a result of working with Bev, I first noticed that my headaches went away and I started to feel more energized. I haven't been sick since we met. Then I started to realize where the low confidence and my feelings of 'I am not enough or good enough' came from. Now I can focus on dealing with it.
Mindfulness-based life coaching is right for you if…
You feel a lot of inner stress and turmoil and don't have the tools to feel calmer, grounded and peaceful.

You lose your voice and sense of yourself in your important relationships.

You're struggling to understand and deal with your emotions without either lashing out or shuting down.

You notice you either numb or distract yourself to avoid dealing with your inner discomfort.
You have difficulty finding a balance and notice you often feel guilty and/or selfish.

You have a sense that this stress and inner turmoil is beginning to impact your health and/or relationships.

You feel out of touch and disconnected from yourself and have a sense that you want to come "home" to yourself.

Things like fear, uncertainty, confusion or lack of confidence are holding you back and you feel stuck.
The following is an overview of the 7-step (S.P.A.R.K.L.E.) life coaching program:
Step 1- Settle Your Inner Hummingbird
Learn how to settle their mind in order to give your body a deep state of rest and shift out of "survival" mode.
In this step you'll:
Learn simple tools to help you focus your mind, deal with distractions and settle your nervous system so you feel more calm and peaceful.

Learn how to introduce powerful meditation and mindfulness practices into your daily life.

Come away with a personalized plan and a set of tools that will meet your needs and fit with your schedule.
Step 2- Prime Yourself For Transformation
Getting clear on what you want to transform in your life, is the first step towards living your life in alignment with your deepest truths and values.  Many people find this difficult as they realize something needs to change but don't know what.
In this step we'll:
Build a personalized plan to move you forward so you know exactly what you need to do live more authentically.

Use a powerful signature tool to identify the areas that you would like to work on in order to restore your inner contentment, and help you get clear about what needs to change.
Step 3: Arm Yourself  With Self-Compassion and Self-Love
Loving yourself is the MOST important thing you can do to feel great about yourself and your life. This is also very challenging as we often don't know how to love ourselves without feeling selfish and guilty.
In this step you'll:
Complete a self-compassion exercise and learn how to be kinder to yourself.

Learn a powerful mantra and practice that will enable you to keep giving to others from a place of being fully charged as opposed to depleted.

Learn exactly how to become your own best friend.
Step 4: Reveal Your Beliefs
We all have beliefs that either help us to become our best or hold us back.  Awareness of these beliefs is key!
In this step you'll:
Become aware of your underlying beliefs and cultivate ones that help you improve your health, relationships and sense of purpose.

Identify and change the patterns of thinking that have been holding you back so you can move forward with clarity and courage.

Use a powerful template to highlight these patterns so that you can make immediate and lasting changes.
Step 5: Kickstart Forgiveness and Transform Resentment
Many people have times in their lives when they feel anger and resentment towards others or themselves. Although these are normal feelings, if they persist over time they rob you of your inner peace, happiness, and health.
In this step you'll:
Learn how to transform anger, resentment and bitterness into feelings of peace, acceptance and personal power.

Get tools to deal with daily aggravations in your interactions with others as well as a proven process for releasing the harmful emotions that leave us feeling unhappy.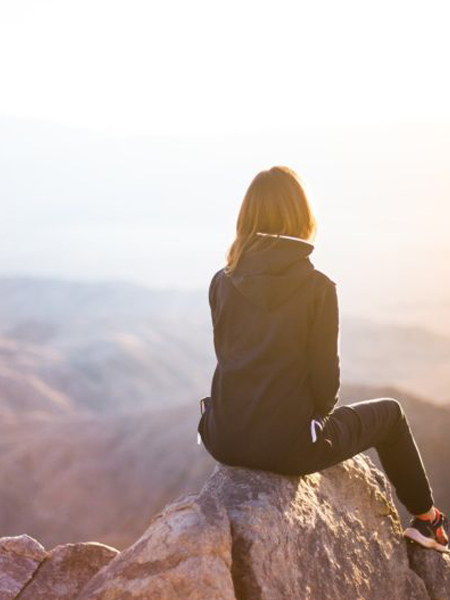 Step 6: Listen to Your Intuition and Inner Wisdom
Over time, many people lose touch with themselves because they're so busy focused on others or their careers.
In this step you'll:
Get really clear about who you are and what is important to you.

You'll utilize a self-reflection tool to get re-connected with who you are and what your unique gifts are.

Connect with your inner wisdom to make nourishing decisions that are aligned with your heart and soul.
Step 7:  Energize Your New Way of Being
By this step, you will have experienced a lot of changes. You'll be feeling lighter, happier and more connected with yourself. Now we want to keep the momentum going.
In this step you'll:
Solidify the tools and processes for maintaining your SPARKLE in order to continue with your forward momentum.

Have an opportunity to see in a tangible way how far you've come from the start of the program.

Have a specific action plan for moving forward and sustaining the change.
Your mindfulness-based life coaching journey includes the following:
Set the Stage launch session
In this special 2-hour launch session you'll learn powerful meditation and mindfulness practices that will set the stage for our work together. You'll learn how to find inner peace, deal with stress and will come away with a personalized meditation/mindfulness plan that fits your needs and your schedule. You can learn more about this session HERE.
Every 2 weeks for 6 sessions we'll spend 1-hour together, one-on-one on the phone/Skype or in person.
During these sessions I'll lead you through a process where you'll breakthrough whatever is holding you back from becoming the YOU, you are truly meant to be.
You'll receive personalized guidance; support; compassion; love and accountability to create a life where you feel you are thriving.
Weekly Email Contact
Every week you can check in with me and I'll respond. I've got an uncanny knack for identifying solutions to your problems quickly via email.
My responses are designed to help you get clarity and develop greater self-awareness.  I also use email to check in with you once a week to provide that accountability loop that is so powerful for transformation.
     4.  Unlimited access to my signature system.
This 7-step system is a proven process to lead you from where you are currently in your life to where you want to be.
The system is a blueprint for a lasting and soul-centred transformation and includes tools that will support you in establishing and maintaining your inner sparkle.
     5.  Program Book and Tools
You will receive a book that goes along with your launch session and many other tools to support you on your journey of self-awareness and transformation.
The tools are customized depending on your needs and range from self-reflection questionnaires to guided meditations to mindfulness practices.