My Transformational Life Coaching Approach
My Approach
"You've always had the power my dear, you just had to learn it for yourself." ~The Wizard of Oz
Helping you connect with and harness your inner power and resilience pretty much sums up my approach to transformational life coaching.
The process of transformation and meaningful change begins the moment you realize that you have within you a deep well of wisdom and inner knowing that is forever wanting to be expressed through you.
Most of us, however, live our lives from the outside in- getting stuck in repetitive and looping ways of thinking, feeling, believing and relating to the world.
We lack the tools and know-how to develop healthy, loving and nourishing relationships with ourselves.
As a result, we put a lot of time and energy trying to manipulate and change the outer circumstances of our lives, without fully realizing that our true power is within.
A transformational approach involves a shift in focus to a way being that honours who you are at your core and creates space to grow into who you're meant to become.
In contrast, traditional life coaching focuses on doing things differently in order for people to achieve and accomplish certain goals. This is very effective for surface level shifts such as getting in better shape, embarking on a new career or improving a person's diet.
A transformational approach, on the other hand, is geared at a deeper level of change that results in you seeing yourself, others and the world differently.
This deep level of change that happens on the inside often leads to a shift in your outer world of health, relationships, and sense of purpose. It is ultimately a journey of coming home to yourself.
My transformational life coaching approach guides growth in 3 main areas:
Developing SELF-AWARENESS enables you to cultivate a way of being that feels peaceful, spacious and responsive in life rather than reactive. You learn how to work with your thoughts, feelings, beliefs and body in a way that feels nourishing.

Developing SELF-LOVE enables you to build a healthy relationship with yourself, others and the mysteries of life. You learn to be unconditionally kind and loving with yourself which creates a ripple of healing, growth and transformation.

Developing SELF-EMPOWERMENT enables you to harness your inner power to bring the outer aspects of your life into alignment with your deepest truths. You live from a place of authenticity, inner peace and resilience.
The caterpillar becomes a butterfly…
For many of us, there comes a time when we are being called to grow and change. This process involves a transformation that represents a shift in a way of being, from living our lives based on our conditioned small (ego) self to the higher needs of our soul or authentic self.
It's fascinating to recognize that the process of transformation in humans is very similar to that which a caterpillar undergoes to become a butterfly.
Shedding our small self isn't easy, however, as we experience resistance and fear. Our small self wants to keep us safe and in our comfort zones.
For many people experiencing this summons, there is a sense that the old self or way of being must fall away to create space for something new that wants/needs to emerge.
While on the outside we may look the same, on the inside a radical transformation is occurring. For many, it is a confusing and often lonely process which when surrendered to often results in changes that help us bring our lives into alignment with who we truly are.
If this is where you are in your journey right now, my coaching can help guide you towards transformation.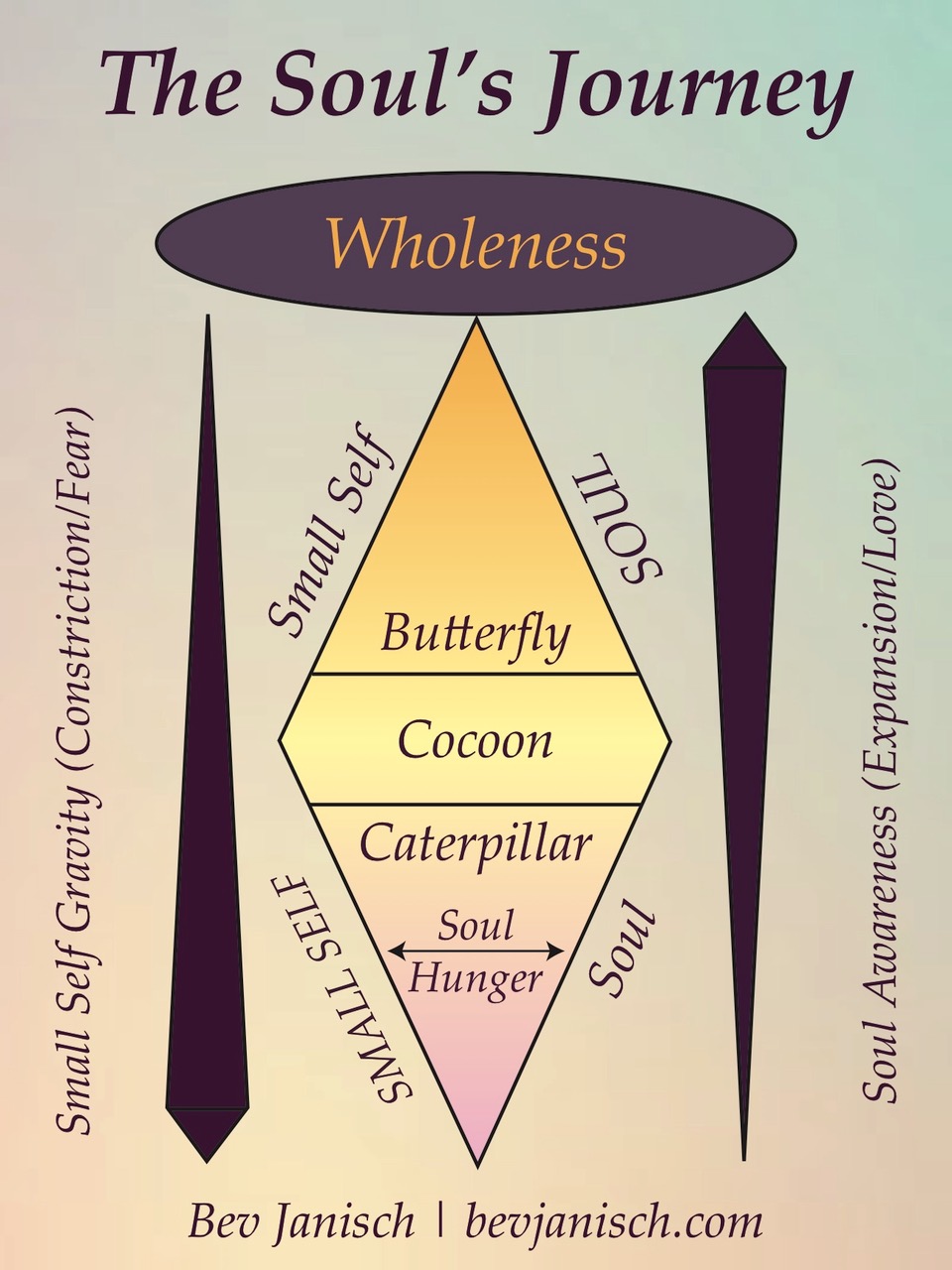 This transformational life coaching is a good fit for people who…
Find themselves asking the big questions in life like, Who am I? Why am I here? What is the meaning and purpose of my life?

Are feeling inner turmoil and distress which is confusing and often accompanied by a sense that the old needs to fall away to create space for something new to emerge.

Have put time and energy into changing others or outer circumstances and are ready to take responsibility for exploring the beliefs and patterns that are resulting in the same outcome.
Have a sense that a deeper level of change is required in order to live a life that feels vital, connected and meaningful.

Believe that the answers are inside of them and with the right guidance they can be accessed to provide direction in life.

Are drawn to an approach that integrates both an understanding and curiosity of their psychology and spirituality with a willingness to explore the deeper needs of the soul.
How can I help you harness your inner power?
Hi, I'm Bev! As a transformational life coach, my role is to accompany and guide people through the often-uncertain process of change and transformation.
I created the Ignite Your Inner Spark meditation and mindfulness-based program for people wanting a modern, research-based approach that fits their busy lives. The program teaches people how to regulate their nervous systems, deal with their emotions in healthy ways, let go of limiting beliefs, transform anger and resentment, cultivate self-love and tap into and trust their inner voice and guidance.
At the start of the program, people complete a rating scale and then repeat it at the end to determine how much they'd changed over the course of the program. The transformations have been remarkable! And while this has been so amazing to observe, the greatest benefit is that they receive tools that they can carry with them for the rest of their lives.
I'm professionally trained as an Integral Associate Coach™, Certified Meditation and Mindfulness Instructor, and I have a Master's Degree in Nursing. I have experienced a profound transformation in my own life and get how the body, mind, heart and soul are all connected. It's become my deepest honor to journey with other's who are being called to their own journey.