Who Is Bev Janisch?
When you focus on building a healthy relationship with yourself, the rest of your life will take care of itself.
And the truth is that all relationships are meant to GROW AND EVOLVE- and that includes the one that we have with ourselves.
But what actually happens for many of us, is that we get STUCK in a way of being that isn't working anymore. What worked for us in one phase of our life, doesn't work for the next.
If we stay stuck long enough it begins to really cause us troubles. The inner turmoil erodes our health, vitality, relationships and sense of meaning in our lives.
I get it, because that's what I was feeling a few years ago. I had lost myself, and didn't know how to get back in touch.
My "Soul Hunger" Journey
In my early years, I followed the traditional path. I got married to my high school sweetheart, had 2 children, and was deeply fulfilled for many years, being a mom and working as a nurse.
After our children were launched, Mark and I decided to leave our careers and travel. We were living the dream!
That was until the dream turned into a deep ache in my soul. This ache went on for quite awhile as I asked myself: What could possibly be missing when I have SO much to feel grateful for?
A few years later, as I was standing on top of Mount Kilimanjaro, one of the highest peaks in the world, I had never been lower. I had an inner ache of what I now call "soul hunger."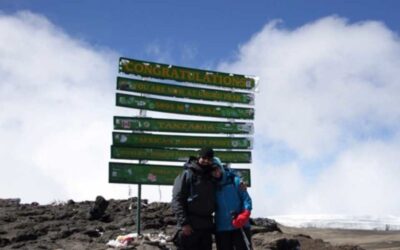 My life had lost a sense of meaning. I had lost touch with who I was at my core and what I wanted and needed in my life.
I came to learn that I actually hadn't lost my Self. It was more like I had never known my Self in the first place. I had been so busy on life's treadmill and fulfilling all my roles (wife, mother, daughter, sister, friend, nurse) that I had no time to get to know my Self.  Who I was beyond all the roles that had defined me?
I knew I needed to look inside myself for some answers, but I didn't know how. I needed some tools, resources, maps and a way to get to know my Self.
I slowly found the tools, made a map and stepped into who I was meant to become. I began to THRIVE again.
I'm grateful to say that I've never been happier.  I'm still married to my high school sweetheart (and our relationship has also evolved), I feel more peaceful (most of the time) and have a deep sense of meaning in my life. Now, I truly am living the dream!
And, that's what I love to help others do. GET THEIR INNER SPARK BACK!
What are the foundational steps?
Step 1:  You get CALM  so that you drown out all the noise, feel more peaceful and tune in to your inner wisdom and guidance.
Step 2:  You get CLEAR about who you are (and who you are not) by learning to distinguish between your conditioned self and your true self.
Step 3:  You get the COURAGE to live your truth and that's when the inner spark really begins to shine.
I've experienced and lived this big transformation in my own life and am honored to guide, teach, coach, and mentor others to become their best selves. Over the past several years I have been gaining not only the personal experiences but also the professional training, so that I can be of service to others.
A little more about my professional history…
I worked as a nursing leader for 30 years in the field of dementia and end of life care. I received my Bachelor's in Nursing degree from the University of Alberta and a Master's Degree in Nursing from the University of Calgary.
After leaving nursing, I became Certified as a Meditation and Mindfulness Teacher through the McLean Meditation Institute. I've taught hundreds of people how to find greater inner peace and fulfillment in their lives.
Although I'm no longer a Registered Nurse, I will ALWAYS be a Nurse for the Soul.
I became a Certified Integral Coach through Integral Coaching Canada in order to learn an approach to coaching that is considered to be one of the best for helping people grow and evolve.
I've accumulated SO many tools to share with others  and I needed a container to hold them. I was looking for a 1-1 approach that helped people mazimize their potential and not just focus on healing. This approach does both.
For the past several years, I have been fully immersed in spiritual studies and graduate-level classes in psychology and spirituality. All of this has contributed to my ability to work with clients from a truly holistic perspective.
I LOVE learning and exploring the mysteries of life.
I live in Calgary, Alberta, Canada with my husband, Mark and Goldendoodle, Molly.
I also love to connect, so don't be shy about sending me an email.