Who Is Bev Janisch?
Adventurous • Spiritual • Book Lover • Compassionate
The background story…
In my early years, I followed the traditional path. I got married to my high school sweetheart, had 2 children, and was deeply fulfilled for many years, being a mom and working as a Nurse.
After our children were launched, Mark and I decided to leave our careers and travel. We were living the dream!
That was until the dream turned into a deep ache in my Soul. This ache went on for quite a while as I asked myself: What could possibly be missing when I have SO much to feel grateful for?
A few years later, as I was standing on top of Mount Kilimanjaro, one of the highest peaks in the world, I had never been lower.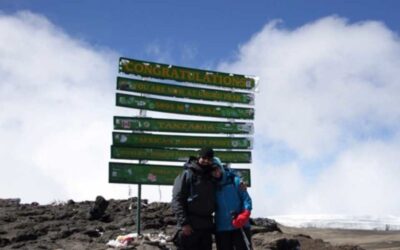 I had lost touch with myself and felt a lot of inner turmoil and stress. All of this landed me in the doctor's office- trying to figure out how to deal with this stress and what I needed in order to feel more peaceful inside.
I had been so busy on life's treadmill and fulfilling all my roles (wife, mother, daughter, sister, friend, Nurse) that I had slowly lost touch with myself.
I knew that I needed to look inside myself for some answers, but I didn't know-how. I was lacking the tools to deal with my mind, emotions and the disconnect that I had from my soul.
Meditation, mindfulness and other spiritual practices ultimately enabled me to reclaim my health, relationships, and sense of purpose.
And, that's why I love to help other people do the same and GET THEIR INNER SPARK BACK!
A little more about my professional history…
I worked as a nursing leader for 30 years in the field of dementia and end of life care. I received my Bachelor's in Nursing degree from the University of Alberta and a Master's Degree in Nursing from the University of Calgary.
After leaving nursing, I became Certified as a Meditation and Mindfulness Instructor through the McLean Meditation Institute™. I've taught hundreds of people how to find greater inner peace and fulfillment in their lives.
Although I'm no longer a Registered Nurse, I will ALWAYS be a Nurse for the Soul.
Most recently, I completed rigorous training to become a Certified Associate Integral Coach™ through Integral Coaching Canada Inc. The Integral Coaching™ approach is considered to be one of the most effective and comprehensive for helping people grow and evolve.
For the past several years, I have been fully immersed in spiritual studies and graduate-level classes in psychology and spirituality. All of this has contributed to my ability to work with clients from a truly holistic perspective.
I LOVE learning and exploring the mysteries of life.
I live in Calgary, Alberta, Canada with my husband, Mark and Goldendoodle, Molly.