Who Is Bev Janisch?
Adventurous • Spiritual • Book Lover • Compassionate
The background story…
Hi there, I'm Bev!  I'm on a mission to help people connect with themselves, feel more peaceful and live more authentically.  I'm so glad you're here.
Here's why…
A few years ago as I was standing on top of Mount Kilimanjaro, one of the highest peaks in the world, I had never been lower.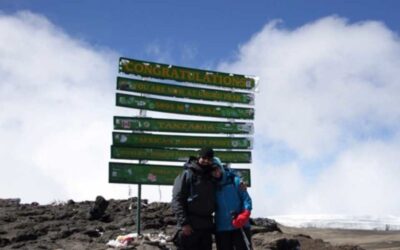 I'd been so busy on life's treadmill and fulfilling all my roles (wife, mother, daughter, sister, friend, Nurse) that I had slowly lost touch with myself.
In spite of having SO much to feel grateful for I felt lost, confused and had a lot of inner turmoil.
I knew that I needed to look inside myself for some answers, but I didn't know-how. I was lacking the tools to deal with my mind, emotions and the disconnect that I had from my soul.
All of this landed me in the doctor's office- trying to figure out how to deal with this stress and what I needed in order to feel more peaceful inside.
My doctor had told me that my stress hormones were through the roof and she asked me if I was meditating.
Meditating?
I had no idea what that really entailed. The only image I had was someone sitting cross-legged on the floor with their eyes closed.  Nope, meditation may be good for others, but not me.
In a quest to get my stress hormones under control, I attended a talk at a local natural food store about healthy eating and stress. A key message I came away with was that to detoxify your body you need to detoxify your mind and the best way to do that is through meditation.
Everywhere I turned I was hearing about meditation so I decided that maybe it was something I was meant to explore.
An amazing thing started to happen as a result of my practice- I started to feel differently. I felt calmer, focused, creative, loving, peaceful and less stressed. I started to sleep better and most importantly, started living my life enjoying more moments and fretting less about the past and the future.
All of a sudden I wasn't "forcing" myself to meditate. I was grateful for the opportunity to have a more peaceful mind and an open heart.
I knew that meditation was making a difference but I was still somewhat surprised when I went back to my doctor and she reported that my stress hormones had returned to "normal." The only thing I was doing differently was meditating on a daily basis!
After I had been meditating for a few years, I began to notice that there were a number of things that confused me about myself and seemed to be impacting my relationships and my ability to show up more confidently. I tended to avoid conflict at all costs, went with the flow to the point I would say "yes" when I really wanted to say "no" and was SO focused on others, that I was out of touch with my own needs and dreams.
My spiritual mentor at the time introduced me to the Enneagram, a psychospiritual personality system, and it enabled me to identify and work with these patterns and habits that were no longer serving me.
What I discovered was that meditation and mindfulness increased my ability to be present for my life AND  the Enneagram gave me a path forward to get "unstuck." Ultimately, it was about learning to have an amazing relationship with myself. When I did- my health, relationships and sense of purpose seemed to fall into place.
As a meditation teacher and spiritual life coach, I now integrate these practices and frameworks into my work with clients. They provide a holistic and powerful foundation for growth, change and transformation.
A little more about my professional history…
I worked as a nursing leader for 30 years in the field of dementia and end of life care. I received my Bachelor's in Nursing degree from the University of Alberta and a Master's Degree in Nursing from the University of Calgary.
After leaving nursing, I became Certified as a Meditation and Mindfulness Instructor through the McLean Meditation Institute™. I've taught hundreds of people how to find greater inner peace and fulfillment in their lives.
Although I'm no longer a Registered Nurse, I will ALWAYS be a Nurse for the Soul.
Most recently, I became a Certified Associate Integral Coach™ through Integral Coaching Canada Inc. The Integral Coaching™ approach is considered to be one of the most effective and comprehensive for helping people let go of what's no longer serving them and step fully into their best selves.
For the past several years, in addition to my own personal psychospiritual development, I have been fully immersed in formal studies to expand my ability to be of service.  My work with clients is from a truly holistic perspective.
I LOVE learning and exploring the mysteries of life.
I live in Calgary, Alberta, Canada with my husband, Mark and Goldendoodle, Molly.